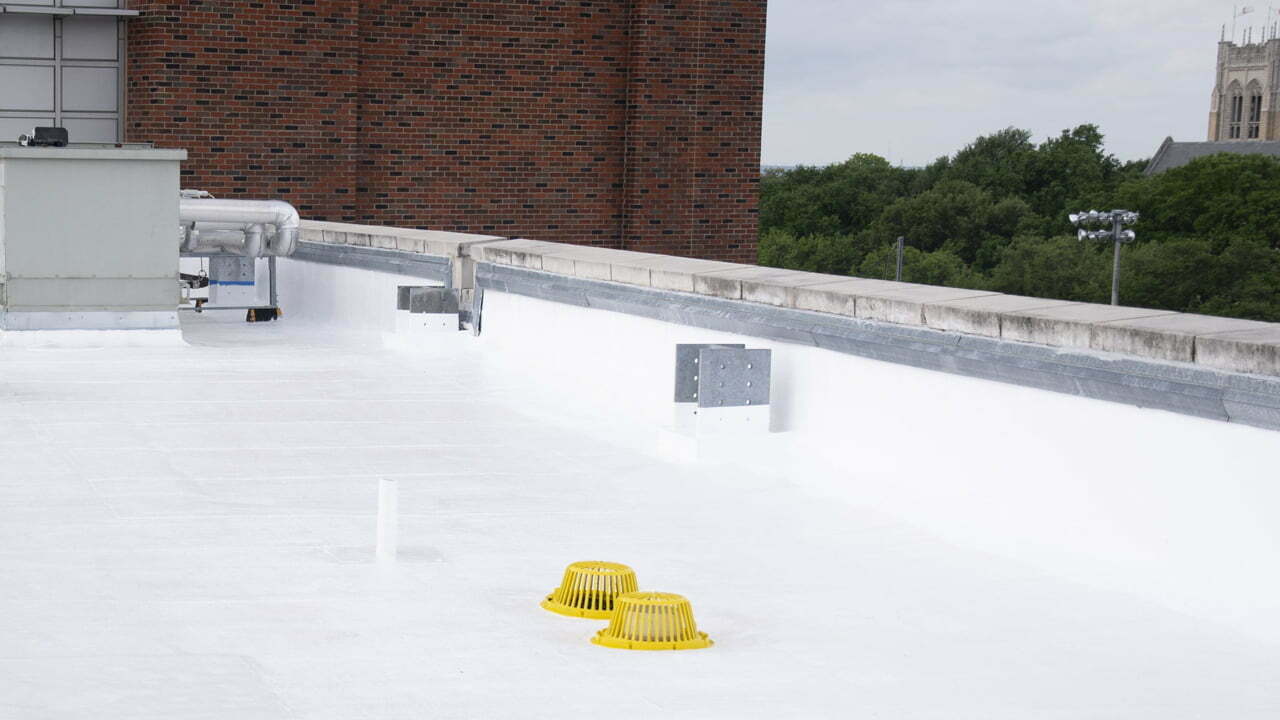 Your roof protects you from many of the elements, but water can still cause damage when it comes down heavily or sits on a flat roof for long periods of time. 
Waterproofing your roof will create a sufficient barrier between your roof and any rain or sleet that might come down on it, effectively protecting it as well as extending its lifespan. Roof waterproofing done right will be long-lasting as well as improve the functionality of the building as a whole by preventing possible leaks and keeping out mold and fungus. 
Benefits of Waterproofing Your Commercial Building
Even the slightest amount of damage can create an opportunity for water to be able to seep through your roof and into the building's framework, insulation, and, in the worst cases, all the way into the interior of your business. Unchecked water damage can lead to a whole new slew of issues, from mold to pest infestations, not to mention costly repairs. 
Eliminating all of these issues will ultimately save you and your business money as well as headaches! Keeping water damage at bay can also preserve your building's value should you ever want to relocate.
Keep Your Roof Prepared
In East Texas, rain can tend to come out of seemingly nowhere, so make sure that your roof is ready for anything. Even if your building isn't located in a necessarily rainy place, sudden heavy storms can be catastrophic when the buildings they hit aren't adequately fortified against the rain. 
To keep your building protected from any surprise storms, call Supreme Roofing for an expert's help getting your building properly insulated.
If you've noticed a leak in your roof recently, don't hesitate to contact us about repairing the damage and adding further waterproofing to the damaged roof. We're Dallas' roofing experts, and we're here to help make sure your roof remains in the best possible condition for as long as possible. When it comes to rain damage, your building's protection is only as good as your roof's.
Call In Supreme Roofing's Experts
Something so crucial to the overall protection of your building should be handled by professionals. You can trust our roofing teams here at Supreme Roofing to get the job done right. While there are waterproofing methods out there that you can do on your own, calling in the professionals will be worth it in the long run. Eliminate the possibility of any areas of your roof being left unprotected by calling Supreme Roofing to come and knock out the job for you. We have many experienced roofers who have the skills to get the job done right, and our team can put your mind at ease when it comes to any future rainstorms.
Your All-Purpose Waterproofing Team
Whether it's to repair or patch a roof that has been previously waterproofed, or a brand new building that still needs to be protected, we've got you covered- literally! We're your roofing experts, and we'll provide you with the top waterproofing services available. 
We understand just how important quality waterproofing is to buildings and their roofs, and we've made sure to become experts in the waterproofing process so that we can provide you with the best possible results.
Supreme Roofing Is Here To Help
Supreme Roofing's commercial waterproofing services include the complete professional installation of our highest quality waterproofing materials that are guaranteed to keep water out of commercial buildings.
Whether you need waterproofing services for a newly constructed building or an existing structure, Supreme Roofing's comprehensive waterproofing and caulking services will keep the water out, regardless of whether the service need is preventative or reactive. Call us today to learn more about how we can protect your building from the elements!