Exceeding Expectations in
Commercial Roofing since 1987
Our Services that We Provide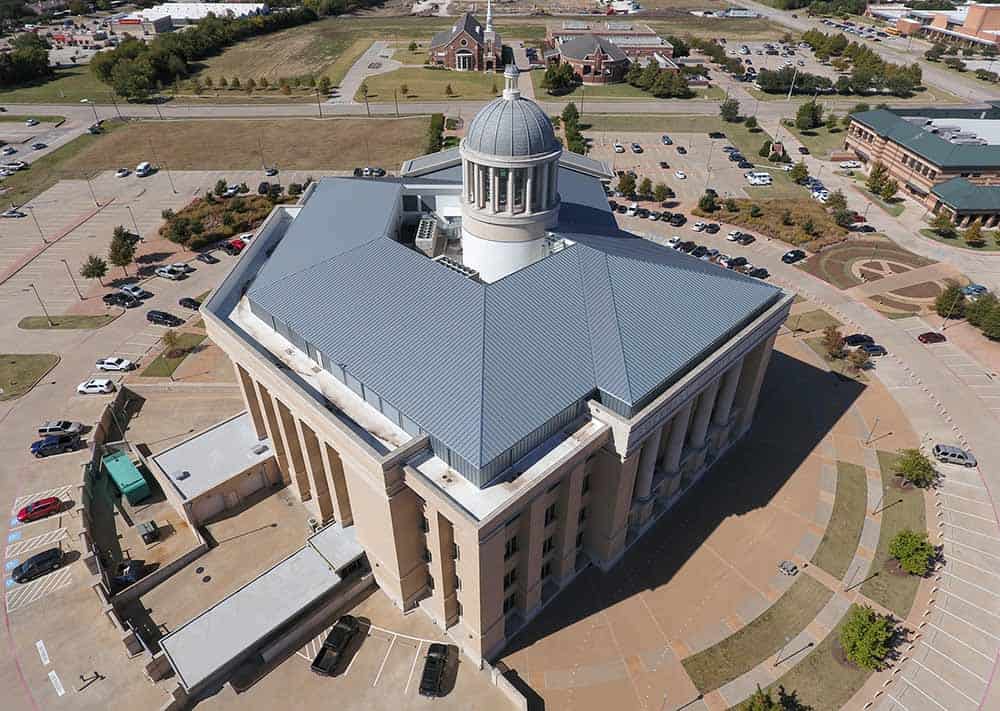 Commercial Roofing Specialists
In operation for over 30 years, Supreme Roofing is a national, award-winning commercial roofing company based in Dallas, Texas, with additional offices in New England, Oklahoma and Colorado. With more than 200 million square feet of manufacturer-warrantied installations, our services span all commercial roofing needs, including repairs and maintenance, roof replacement or restoration, new construction and more.
We don't look for short cuts. Supreme looks for the right way to achieve results, which is why we call it Roofing Done Right. Our collaborative and safety first approach, mixed with our high standards and hard-working people, is what sets us apart from other commercial roofers in Dallas and across the nation.
What Our Customers Are Saying
William Stewart
2020-12-17
A new roof was installed on the 23rd floor terrace of the Harwood building in downtown Dallas.
Supreme roofing promptly arrived same day of my request to repair my roof. The workers were very diligent and made the repairs in 2 days. The crew leader took before pictures of the roof damage. After the repairs, he took more pictures of the repairs and sent them to me. I had not requested him to do this. It was extremely helpful to see how the damage had been repaired. We've not had any additional leaks in the repaired area. I STRONGLY recommend Supreme Roofing for any roof repairs that you may have!
Marynell Murphy
2020-11-29
Supreme Roofing is the best roofer I have ever found. They maintain a gravel roof that is over 50 years old!!!!! They do regular maintenance work and when we do have a leak they are out immediately to fix the problem. And fix it in one trip. Their crews are knowledgeable and go about their work with no supervision. When I know they are on the job, I know it is a job that will be of high quality and last.
Trina Norvell Knowles
2020-11-24
We own several commercial buildings in the Dallas, TX metroplex. They are 15,000 sq. ft. buildings with flat roofs. Supreme Roofing have been our "go to" resource for repairs for many years. They always go above and beyond. Their team is always on time and prepared to do whatever the job needs. Their quality of workmanship is second to none...I know that when I call them they will respond quickly and the job will be done correctly. From the first call for help to the conversation with the man on the ground they are courteous and professional. I also never have to wonder what they did.....they explain it to me prior to performing the work to ensure its what I want and what's the best fit our building. I feel like with Supreme Roofing I never have to worry if the job is done right because it ALWAYS is!
Sarah Desborough
2020-11-24
Supreme Roofing initially install the membrane roof over 20 years ago. It has worked out perfectly. When there have been issues, Supreme Roofing has immediately responded to our call to get repairs done. This roof is not going to leak unless a contractor does something to it. Please note the repairs were due to contractors for HVAC or other services by our tenants that would cause the damage requiring repair. We like working with Supreme Roofing.
We have approximately 45,000 sq ft in two buildings at our corporate offices in Grand Prairie. Supreme has been taking care of our facility for about 12 years and has always been quick to respond and very reasonable costs to repair.
Skyler Rohbock
2020-11-16
We used Supreme Roofing on an EPDM reroof on a commercial building. They were competitive in pricing, A+ quality, and responsive. I have been a Building Envelope Consultant for 10+ years and they are a top tier contractor. It is unique in this industry to have a contractor do exactly what they say they will in a timely manner. They always took my calls. They did not cut any corners during the project. There were a number of tricky details with a modesty screen and roof top units and they did an excellent job. I would recommend them to anyone. Well done Supreme! This commercial building is in Lewisville, Texas.
The roof renovation project on this assisted living facility included replacement of both asphalt shingle and single ply membrane roof membrane replacement. A large and complex project requiring integration with other building trades. David Etley and Les Ingram at Supreme devised a great project plan and stuck to the plan. Supreme was able to maintain a safe, clean environment during the entire renovation, this was extremely important as the facility was fully occupied during the renovations. Supreme insured that the Owner's construction team were always well informed. The project was always well staffed, completed on time and on budget. Great job Supreme!
Trusted By The Best In The Industry