Comprehensive Roofing Solutions in New England
The Roof Experts Are a Call Away
If you are in need of a roof replacement or some storm damage repairs, Supreme Roofing is the team to call. We are located in our CEO's hometown, Chicopee, Massachusetts, but we service all of the states in the New England area. This includes Connecticut, New Hampshire, New York, Maine, and Rhode Island. There isn't a roofing problem that our team hasn't provided a solution for. Just let us know what you need, and we will be on our way.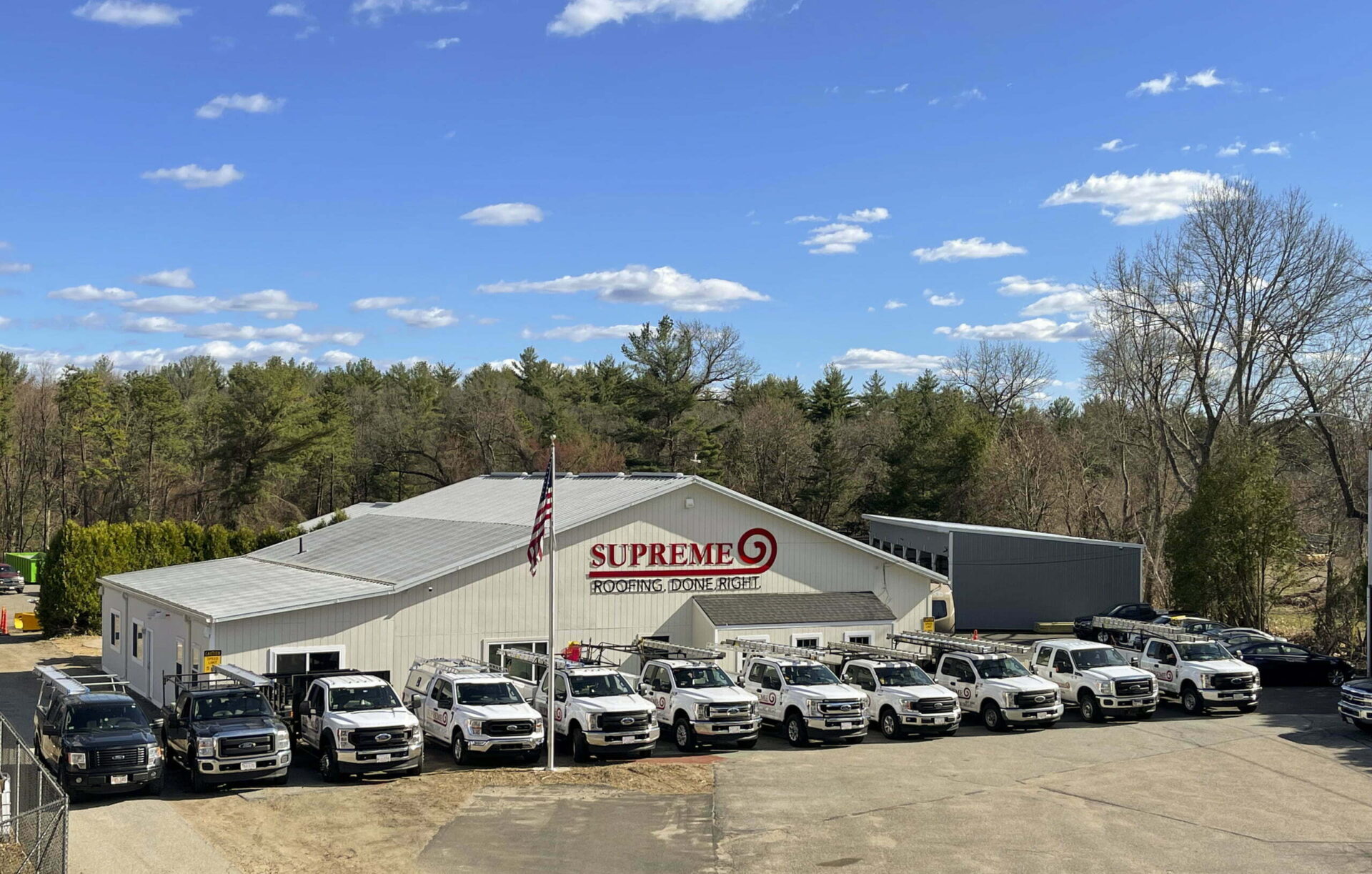 Commercial Roofing Repairs and Replacements
Has your commercial roof undergone a severe storm? Have you noticed water leaks on your ceiling or walls? Maybe you are dealing with missing shingles. Whatever the case may be, our roofers have you covered. Some problems can be fixed with a repair or two. However, other issues may only be solved with an entire roof replacement. Our experts will evaluate your roof and determine the best course of action. If your business is located in New England, we are only a call away.
Preventative Roof Maintenance in Chicopee, Massachusetts
Preventative maintenance is the best solution for your roof. It's cost-effective because it helps prevent issues from getting out of hand. We can catch the problems right away and offer solutions that are more affordable than if the issue is caught too late.
What's Included in Preventative Maintenance?
Some of the maintenance we offer includes gutter cleaning, mold removal, inspections, general roof repairs, and debris removal. Our roof experts dedicate their careers to caring for roofs, so they know exactly what to keep an eye out for. You can rest assured that your roof is in good hands.
New Construction, New Roof
Are you in the process of constructing a new building? Have you considered who will build the roof? You need experts on this project because a roof is an essential part of a structure. It's the main line of defense against the elements, so you need to invest in a good-quality roof.
Every building is different, but our team will help you choose the best roof option for your needs. So, if you are in the process of building a new structure in New England, give Supreme Roofing a call.
Snow Removals in New England
Winters are long, cold, and harsh in New England. Most locations in this region receive 60 to 120 inches of snow annually. With that in mind, it's critical to have a team of roof experts on hand. Supreme Roofing can remove snow from your commercial roof quickly and safely, preventing structural damage. Our professional snow removal services can help prevent roof deck deflection or separation, roof deck bending or bowing, water leaks, roof holes, and cracks.
Roof Restoration in Chicopee, Massachusetts
Roof restoration involves the process of cleaning, recoating, and restoring existing roofing materials with a layer of a roofing product. This coating can extend your commercial's roof life by another 10 to 15 years.
Get in Touch With Supreme Roofing
If your commercial building is located in Chicopee, Massachusetts, or anywhere else in New England, Supreme Roofing has you covered. Just let us know what your roofing needs are, and we will schedule a time and date that works for you.
Have a commercial roofing project?
Let's work together