Emergency Response Commercial Roofing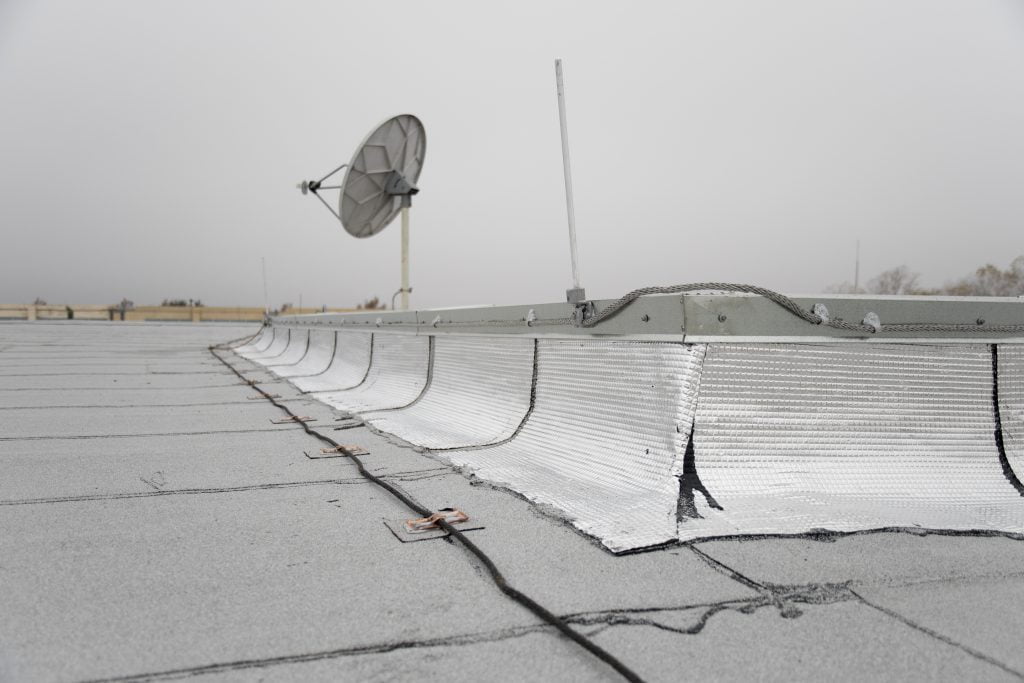 Supreme Roofing Responds Fast
Supreme Roofing is quick to respond to all your emergency roofing needs. Emergency response is one of our focuses. We act fast to get your repairs done so you can return to regularly scheduled business. We lead the industry in repair and response time for commercial roofing. 
We repair all commercial roofing types, from grocery stores to convention centers and schools. We respond quickly and asses the damage as fast as possible so that the vital repairs are not delayed.
What Type Of Damage Is Severe Enough To Be An Emergency?
Commercial roofing is built to withstand a lot of wear and tear. It withstands heat, rainfall, high wind, snowfall, and more. Your roof is the first line of defense when it comes to protecting your building. It keeps you dry, and the inside temperature would be impossible to regulate without the protection of a roof.
This is why we prioritize emergencies, we know how vital it is that we repair the damage quickly to prevent further damage. There are many types of roofing damages with varying levels of repair urgency. 
Damage to commercial roofing qualifies as an emergency when the damage affects the daily function of the building or makes it unusable.  If you are unsure about the level of damage, call a professional for an evaluation and fast response. When in doubt, get it checked out. We can help repair your TPO roofing and more. 
Most Common Emergencies
Roof leaks can occur after long periods of rain. While a leak in your roof is always of priority to get repaired, if it is a small leak you can wait until the rain stops and the roof is dry before calling in a repair request. We can repair things much more quickly and easily when working on a dry surface.
If it is a very large and urgent leak, affecting the daily use of the building, do not hesitate to call in an emergency repair crew. Large leaks take a bit of creativity to fix, and sometimes a tarp must be placed over until the work area is dry. Call a professional, even if you think a tarp is temporarily needed, and don't climb on your roof in the middle of a storm no matter what. Wait for the professionals.
Hail can do a real number to a flat commercial roof. The impact can break up the gravel and other materials that make up the first line of defense on your roof. If this protective layer is damaged severely, it can quickly open the door to many other problems. Don't let hail damage compound into a larger issue. Roof problems never go away, they only get worse and more expensive to repair. 
The power of wind is underestimated and can cause serious damage to a roof. When you are dealing with high wind speeds, the wind can get under that first layer of roofing and lift it up. Once the wind has penetrated the top layer, it is an emergency. The issue from there can compound into a larger problem, once the wind lifts up the roof, it can continue to blow the material back and cause further damage.
Maintenance Can Prevent Some Emergencies
Routines maintenance can help prevent some emergencies. By making sure your roof is in tip-top shape, it will be more ready to withstand external threats like heavy rain, hail, or high wind speeds. 
Get your roof checked out by a professional to make sure it can get you through the cold and rainy season without any trouble. 
Respond, Show Up, And Deliver
That is our promise to you, when you call us with a roofing emergency, we will respond, show up, and deliver. This means we will act urgently to your call, show up quickly, deliver a repair plan and execute it. We respond to emergencies quickly and evaluate the damage to quickly create a repair plan. Call us for all your commercial roofing emergencies. Supreme will respond, show up, and deliver.
Have a commercial roofing project?
Let's work together