The Comprehensive Commercial Roof Cleaning Checklist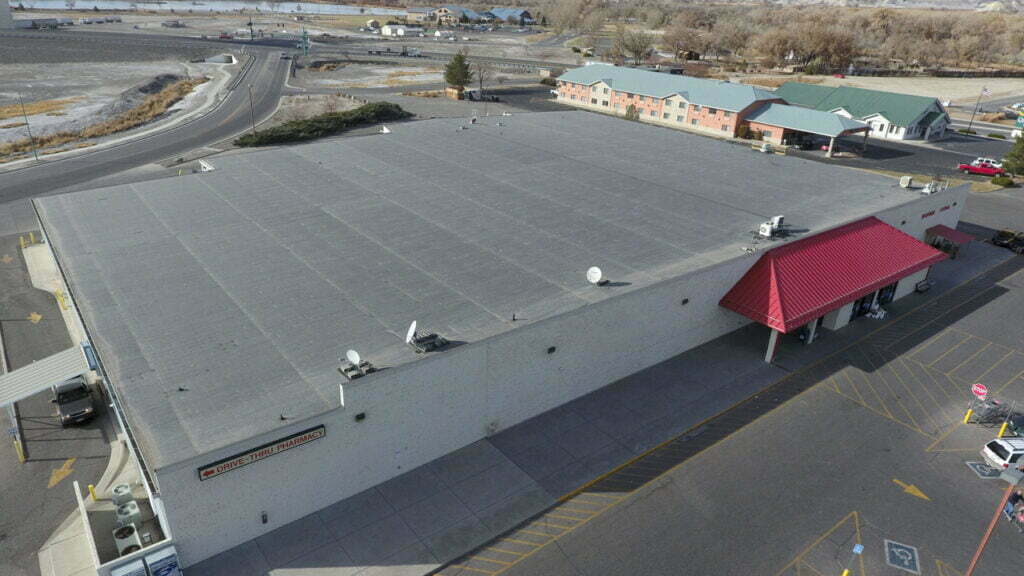 Fall brings beautiful colors, falling leaves, and clogged drains. With such a high volume of debris potentially falling on your roof, commercial roof cleaning is more important now than ever. In this post, we will go over all of the areas of your commercial roof that need to be cleaned and highlight the consequences that could follow if left unchecked.
The Importance of Commercial Roof Cleaning
You can probably guess that failure to clean your commercial roof can have severe consequences, especially in the latter months of the year. Clogged drains and other heavy debris on top of a roof can lead to flooding, sagging, leaking, or even collapsing. Your roof takes care of you, so make sure you take care of your roof.
The Commercial Roof Cleaning Checklist
Fortunately, if you can get ahead of the weather, your chances of sustaining roof damage are significantly lowered. Here are a few items that you can do to keep your commercial roof in top shape when debris starts to pile up.
Clean Drains 
Most commercial roofs are flat and a large component of their drainage system is center drains. Because these drains are usually covered by a plastic or metal filter, they can become blocked fairly easily. When fall and winter come around, it is best to clean these drains at least once a month. This can be done by simply hopping on top of your roof and shoveling the accumulated debris away.
Clear Debris
Your drains aren't the only places where debris will accumulate. Leaves and twigs will also fall all over your roof, potentially covering it in a heavy, damp layer of organic material that can promote mold growth and add heavy stress. Much like your drains, any debris that you see on your roof should be cleaned every month during the fall and winter to avoid sagging or collapse.
Clean Scuppers
Your scuppers are located at the bottom of the parapets of your roof and are also an essential part of your drainage system. Because there are usually no filters over them, it is possible for them to get clogged and lead to pooling on your roof. Make sure to clean your scuppers regularly to avoid leaking.
Check for Damage
Whenever you perform a regular cleaning of your commercial roof, you should always check for any damage that may have occurred since your last check. Look for signs of punctures, gaps, or any abnormalities. If you are able to spot signs of damage early, this can end up saving you from having to temporarily close your business while you make expensive repairs. If you see any damage, be sure to call a roof professional to get your problem taken care of. 
Your Dallas, Texas, Commercial Roof Experts
If you have sustained commercial roof damage and are in need of emergency repair services, Supreme Roofing is proud to give you a hand. Our decades of experience and rapport with our clients have earned us the title of one of the premier commercial roofing contractors in Dallas, Texas. Give us a call today or fill out our online form so we can solve your commercial roofing problems.
Have a commercial roofing project?
Let's work together