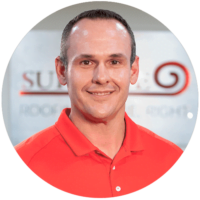 Will's Role With The Team
Will Messer manages Supreme's service department, overseeing operations, sales, scheduling, project management, account management, new technology implementation and process improvement. He enjoys helping clients manage their roof assets, determining which roofs need replaced vs. which roofs can be repaired to extend their serviceable life and implementing preventative maintenance programs to prevent leak issues.
A Passion For The Industry
Will began his career almost 20 years ago as a laborer at a general contracting firm and worked his way up through the ranks before joining the Supreme team in 2012. He started in a service sales role, moved to Service Estimator/Project Manager and was then promoted to Service Manager. He says that the most rewarding part of his job is helping customers resolve tough leak issues and implementing processes and technology to better serve customers.