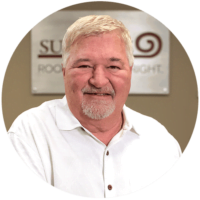 As CEO and founder of Supreme Roofing, Tim Rainey has over 40 years of experience in the roofing and construction services industry. He started in the roofing industry in 1977 as a laborer in the union and worked his way up through the ranks to Vice President. In 1987, he created Supreme Roofing and has managed its growth through the past three decades. Under his leadership, Supreme has grown to be one of the largest commercial roofing companies in Texas and has expanded to operate offices in Massachusetts (serving the entire New England area) and Oklahoma.
 In addition to his role at Supreme, Tim is an active leader in the roofing industry, where he has served a key role on many roofing industry boards and committees. His dedication to the commercial roofing industry is evidenced by the time he has donated on NRCA's Executive Committee as Vice President (07-09) and NRCA's Board of Directors for a decade.  In addition, Mr. Rainey has chaired and provided leadership on numerous association committees, as well as the Board of Trustees for the Roofing Industry Alliance for Progress, NRCA's foundation.  He is also an elite member of NRCA's Political Insiders Council. In 2010, Tim served as President of the North Texas Roofing Contractors Association (NTRCA) and is the recipient of the organization's most prestigious annual award, the Industry Leader Award.
Tim has also spearheaded numerous community service projects, including the roofing project for The Women's Center of Tarrant County, winner of the national 2009 Gold Circle Service to the Community Award from the NRCA, Sunshine Village in Massachusetts and, most recently, organized an effort in partnership with NTRCA members to donate high quality body armor for police officers in the Double Oak Police Department in Texas.