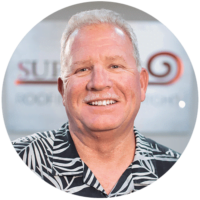 "Mac" manages the day-to-day operations of the company, with an emphasis on estimating/project management, production and safety. He has worked in the roofing industry for 35 years, 25 of those with Supreme Roofing where he started as a Superintendent and worked his way up to Operations Manager, Vice President and Senior Vice President before becoming President in 2012.
His favorite projects are those that present multiple logistical challenges, including the DFW Airport, GM Assembly plant in Arlington, Texas, and Abbot Laboratories in Barceloneta, Puerto Rico. Mac is a leader in the industry, where he has served on the board of the NTRCA, and at Supreme, where he enjoys mentoring the next generation of roofing professionals.
When he isn't working, you'll find Mac enjoying time with his wife, four children (including a son who works at Supreme) and his precious granddaughter.