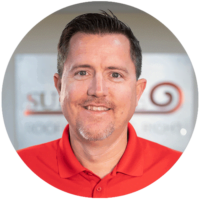 Proven Experience In The Industry
David Etley started with Supreme Roofing in 2013 and currently serves as the senior estimator and project manager. His previous experience in the construction industry goes back to 2006 when he worked for a fire protection company. His roofing career started when he came on board with Supreme. Etley was born and raised in Mansfield, Texas, and he enjoys golfing when time permits and spending time with his family. He graduated from Mansfield High School, completed his bachelors from University of Texas at Arlington and carries his OSHA 30-hour certification.
His favorite part about working in this industry would be working through challenging estimates and projects. The art of putting together a good estimate, being awarded the project, and then managing the project from start to finish, gives him great satisfaction in what he is doing. In the end, it gives him a sense of pride knowing he was pivotal in the success of the project and ensuring the customer was also completely satisfied.
In terms of a favorite project, he cannot pick just one. He really enjoys putting his best effort forward on all the projects he is rewarded regardless of size or scope.