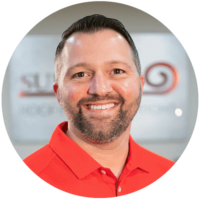 Growing Up In The Industry
Craig has had roofing in his blood since he was born. He officially started working for Supreme during his senior year of high school, as part of Supreme's apprentice program, then worked as a Junior Estimator during college summers. After graduating from the University of Alabama in 2005 with a bachelor's degree in finance management, Craig started working for Supreme full-time, managing the service department until being promoted to Vice President in 2016.
Embracing The Challenging Projects
He loves being surrounded by a great team that works together to take care of others and being able to provide customers with quality roofs and exemplary customer service. His favorite projects include those that others either say can't be done or want to avoid, "because Supreme loves rising to challenges and successfully completing complex jobs." 
A Leader Amongst His Peers
 In addition to his role at Supreme, Craig is active in the roofing industry, where he is currently on the Board of Directors  and is a past board president of NTRCA, a board member of RCAT and a member of MRCA, NRLRC and Alliance for Progress.
A Heart For The Community
A common quote referenced by Craig, "Kindness is something you can't give away because it keeps coming back to you." With those thoughts in mind Craig brings a big passion for the community and helping others. Craig has helped guide efforts to support the Ronald McDonald Foundation, servicing any of their waterproofing or roofing needs free of charge. Likewise, under his guidance, Supreme supports the Sunshine Village in Chicopee, Massachusetts. Supreme's efforts with Sunshine Village include funding of educational opportunities for individuals with disabilities.